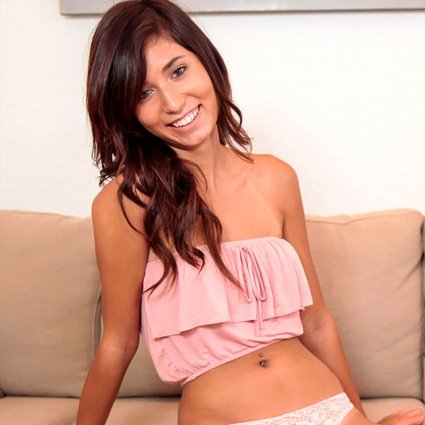 Damn, this girl is cute! Kimberly Costa caught my eye because she certainly looks about as fresh as they come, this girl is more than a little shy in front of the camera, and it turns out she's nowhere near as experienced sexually as you might think, check out the story:
Kimberly and her slim Asian body were more than ready to fuck on camera for the first time. She was nineteen and wanted to make some money. Kimberly had plenty of experience from what she could tell us. She told us if she was sore after a good fuck she was happy. Mirko stepped in after Kimberly rubbed her pussy until it was soaking wet. She did her best to fit his cock in her tiny mouth, but she chocked through the whole blow job. After the gag party, Mirko took control of her and pounded her pussy good. He filled her up and emptied his load on her face. She was fucked into a daze, but Kimberly said she would do it everyday.
She's suepr cute, this Asian American girl has a killer little body, and for this debut scene, she's pretty much deer in the headlight material. It doesn't get any fresher than this!